Mary Fisher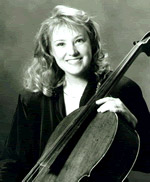 Mary Fisher studied cello performance at the University of Manitoba. Some of her teachers include Tanya Carey, Irene Sharp, and Hans Jorgen Jensen. For ten years she was a faculty member at The Royal Conservatory of Music.
Mary is the founding member of the Fisher Quartet and has performed with Chamber Music Etobicoke, The Northern Sinfonia and the Symphony New Brunswick as well as being an active freelance musician. Her students have been awarded Silver Medals by the RCM Examinations system, and awards in music festivals.
Ms. Fisher is the co-founder of the Toronto School of Strings and has taught Suzuki and traditional cello since 1981.